THE Alliance Announces Further 2018 Network Enhancements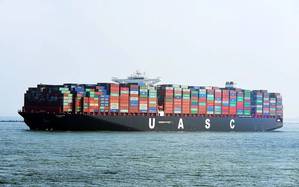 Following the announcement of the 2018 service network in December the members of THE Alliance, Hapag-Lloyd, Ocean Network Express, and Yang Ming have worked to refine the product offerings.
Several services will see additional enhancements to improve transit times, boost reliability, and deliver more choice to the marketplace.
"The fine tuning of the 2018 product package will further strengthen our already robust portfolio and allow THE Alliance members to provide enhanced value tailored to exceed the need of the marketplace" the members said in a statement.
THE Alliance members are also excited to unveil a further addition to the already extensive network of service offerings.
Starting from April 2018, the members will inaugurate a new dedicated service branded as AR1 to provide high speed direct coverage of the Red Sea from China, Korea, Singapore and Malaysia. The service will offer superior transit times and allow customers to efficiently streamline their supply chains.
Enhanced with new coverage of the Red Sea market, the partners of THE Alliance will continue to innovate with a goal of providing a superior, reliable, efficient, and safe transportation solution to shipping community.
Feb 13, 2018