Gulf Craft Unveils Majesty 175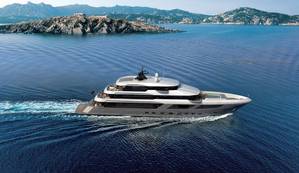 UAE builder Gulf Craft announced that the 54-metre concept Majesty 175 is currently being constructed by UAE builder Gulf Craft at the company's Umm Al Quwain facility, with her delivery scheduled to the end of 2019.

The completion process of the largest yacht "Made in UAE", is going at a fast pace, said the manufacturer of luxury yachts and fiberglass boats.

"Originally introduced to the public during the Monaco Yacht Show in 2016, the 54 metres flagship is being built completely at the advanced facility in Umm Al Quwain. Scheduled for delivery by the end of 2019, the tri-deck 490-tonne mega yacht will have trans-Atlantic capability and over 4,000 nautical miles range," said a press release.

The Majesty 175 will be the largest mega yacht in the world to be built fully as a Commercial Yacht over 500 GT (gross tons) using advanced composite materials and certified in full compliance with the MCA LY3 Code.

The Majesty 175 is being developed in collaboration with the Italian Naval Architect Massimo Gregory from Yankee Delta Design Studio based in Milan.

Her exterior styling and interior design are the works of the famous Italian designer, Christian Gatto. There's emphasis on substantial lounging and entertainment areas, highlighted by a beach club aft.

"The generous pool on the foredeck and a jacuzzi at the back of the upper deck further reinforce the uniqueness of the Majesty 175," it said.


Mar 6, 2019