Cruise Ship Rescues Fishermen in Distress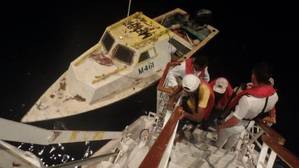 A cruise ship came to the aid of a small fishing vessel that was adrift after running out of fuel about 25 nautical miles from Barbados.
At approximately 10 p.m. on August 29, Carnival Fascination responded to a distress signal from two fishermen while on a seven-day Caribbean cruise that departed San Juan on August 26.
The two Barbadian men, ages 43 and 51, were rescued by the cruise ship and taken on board where they received medical assistance, a hot meal and accommodations. They also had the opportunity to call their families.
"We are extremely proud of the team on Carnival Fascination for rescuing these fishermen in distress," said Carnival Cruise Line president, Christine Duffy. "Performing such a procedure at night is extremely challenging and I applaud the team for their efforts in saving lives at sea."
The fishermen disembarked in St. Lucia for their return to Barbados.
Sep 10, 2018