Fincantieri in Pact with Abu Dhabi Shippbuilding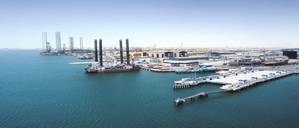 Italian shipbuilder Fincantieri and Abu Dhabi Shipbuilding (ADSB) have reached a framework agreement to explore future forms of industrial and trade collaboration in the shipbuilding sector in the UAE.

The accord is part of Fincantieri's development strategy in the Middle East based on fostering local activities both in the shipbuilding segment and in services and after sales activities in the region, a statement from Fincantieri said.

The details of the accord between Fincantieri and ABDS - which is specialized in the construction, repair and refit of military and commercial vessels - will be finalised "in the near future" with the signing of a Memorandum of Understanding, said the statement.

The MoU - will cover future shipbuilding programmes involving the UAE's Navy and as its Critical Infrastructure and Coastal Protection Authority, as well as refitting and maintenance activities for the UAE Navy's future fleet. ADSB is the market leader in the UAE for the building, repairing and refitting of military and mercantile ships.

"In the last decade, Fincantieri has built an excellent relationship with the United Arab Emirates Navy. In fact, it is present on the local market since 2008 and has delivered three vessels built in the Group's Italian yards in 2013, one "Abu Dhabi" class corvette of 90 meters in length and two "Falaj 2" class patrol vessels, all operating within the UAE Navy's fleet with full customer satisfaction," said the statement.

Fincantieri had established the local joint venture Etihad Ship Building to support the maintenance and the full operational capability of the units delivered to the UAE Navy.


Feb 22, 2019