M/V National Geographic Venture Launched at Nichols Brothers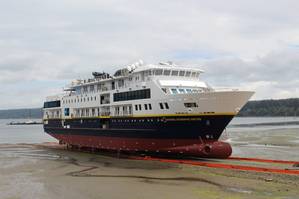 The expedition cruise sector has been one of the fastest growing parts of the passenger vessel market, driven by a growing group of wealthy clientele willing and able to take the time and pay the money for an exclusive, once-in-a-lifetime journey to some of the world's most remote and exotic locales.
Linblad Expeditions has been a clear leader in the sector, and recently its latest vessel -- M/V National Geographic Venture -- was launched at Nichols Brothers Boat Builders (NBBB).
Nearly three years ago the deal between Lindblad and NBBB was struck to built a pair of 100-passenger cruise ships for expedition cruising in Coastal California; Baja, California; Alaska; the Pacific Northwest, Costa Rica, Panama, and Belize. The first vessel was the M/V National Geographic Quest, which has operated within the Lindblad fleet since July 2017.
Measuring 238.5 x 55 x 10 ft., the Jones Act coastal cruise vessel is purpose-built for exploring coastal waters, shallow coves, and fast-moving channels where wildlife congregate; while sailing with the luxury and comfort.
The US flagged National Geographic Venture will transfer to NBBB's pier side facility in Langley, Washington for final outfitting and sea trials, before being delivered to Lindblad Expeditions in October 2018.
Sep 14, 2018