Speedcast Expands Relationship with RCCL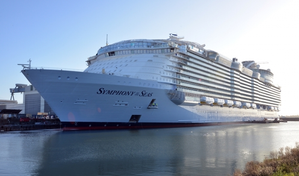 Speedcast International Limited (ASX: SDA), a provider of highly reliable, fully managed, remote communication and IT solutions, has announced it has extended its relationship with the largest consumer of satellite bandwidth in the cruise industry, Royal Caribbean Cruise Lines (RCCL), which will be further increasing the bandwidth delivered across 37 ships.
Speedcast's experience with Royal Caribbean dates back to 2006, when the company installed RCCL's first Ku-Band VSAT antenna on board a vessel to satisfy peak seasonal communication demand in the Brazil region. The Speedcast network now delivers fully managed communications solutions and value-added services to 37 Royal Caribbean brand ships for shipboard administration, and guest and crew usage. Multiple antennas on each ship with seamless automatic failover between Ku-Band and C-Band ensures high availability and Service Level Agreements (SLAs).
Feb 14, 2018